Succesvolle B&B fotoshoot 16 februari 2016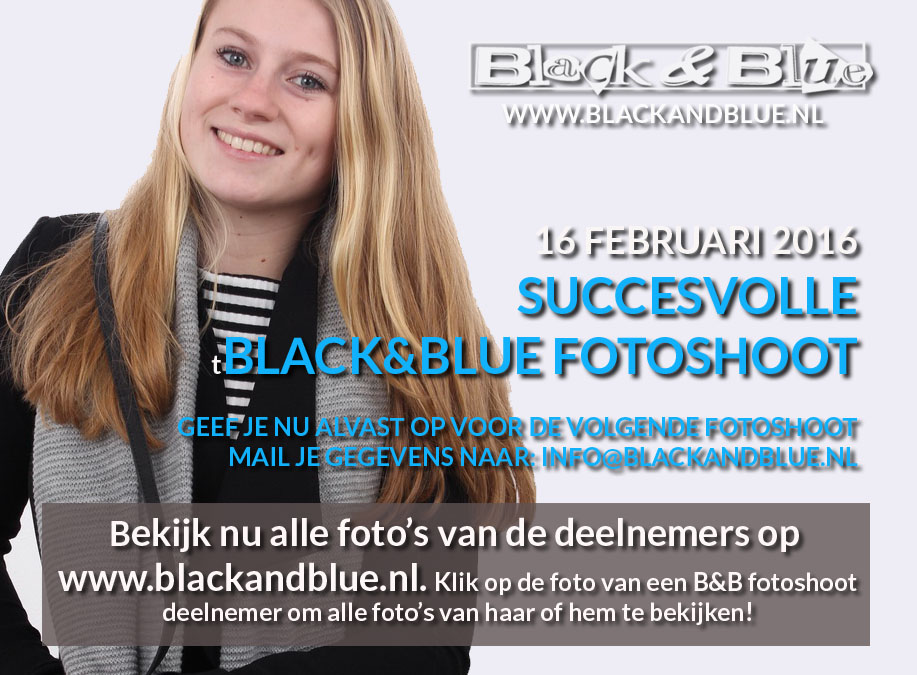 Het was 16 februari weer een geslaagde B&B fotoshootdag! Maar liefst 44 deelnemers deden mee aan de B&B fotoshoot.
Wil je een keer weten hoe het is om model te zijn (ervaring niet nodig) en eens een paar echte coole fashion fotoshoots in B&B kleding te laten maken?
Geef je dan alvast op voor de volgende fotoshoot. Deze dag is nog niet gepland dus kom regelmatig op onze website om op de hoogte te blijven. Of like onze Faebookpagina en/of volg ons op Instagram Black & Blue Fashion.
Stuur een foto en jouw gegevens naar: info@blackandblue.nl of via onze contactformulier
Bekijk nu alle foto's van de deelnemers op onze website. Klik op de foto van de deelnemers om alle foto's van haar of hem te bekijken!
We bedanken hierbij alle deelnemers voor hun komst en deelname aan de fotoshoot namens het Black&Blue Team. En we zijn reuze benieuwd wie de winnares of winnaar wordt op 1 maart aanstaande van de Fotoshoot Facebook Actie!